Agile TV: Yoigo television channels and opinions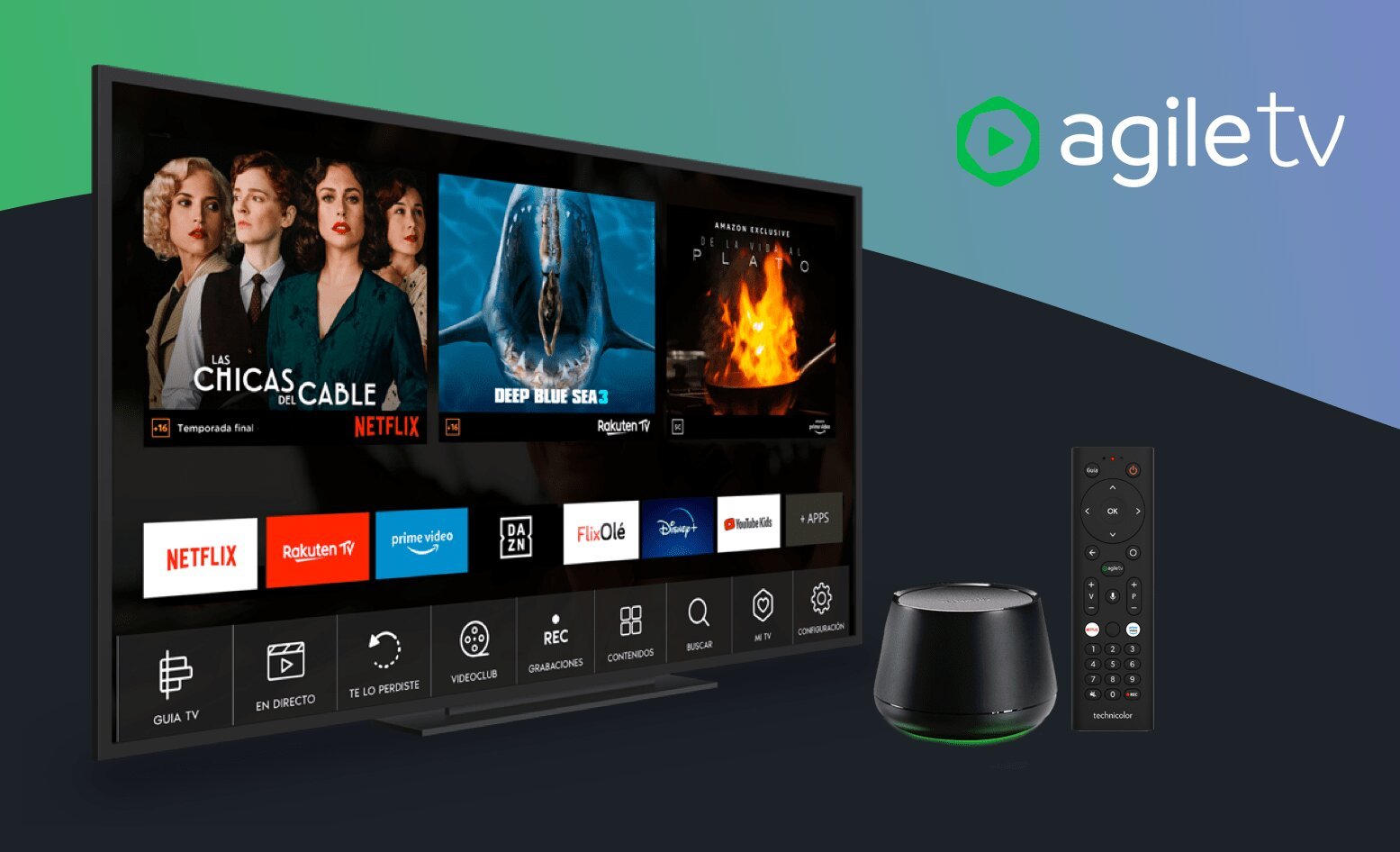 Agile TV: Yoigo's television
Agile TV is the new television that the Yoigo company has incorporated. The operator brings television to us through a device called Agile TV Box that allows us to access leisure, entertainment and cultural content such as streaming platforms or Agile TV channels .
If you are not a Yoigo customer, you can also purchase the Agile TV product.
Agile TV Pricing
Agile TV without Yoigo

 : €199

Agile TV with Yoigo

 : €6/month
*The AgileTV service costs €6/month after 25 months of purchasing the Box 4K. Subject to modifications.
Before you continue reading, we inform you of the advantages of Yoigo television (Agile TV) and the reason for such a high price:
Advantages of Agile TV
 

Agile TV Features

DTT integrated into the Agile TV Box with all analogue, private, national, local and regional channels.

streaming

Download apps like 

Netflix

 , 

Sky TV

 , 

Amazon Prime Video

 , 

Mitele Plus

 etc. (with prior subscription).

Applications

Download the best apps for children, cooking, video games, sports, etc.

Contract with Yoigo

Subscription to Rakuten TV and Sky TV is included in Yoigo TV

4K content

Tune in to content in maximum 4K quality.

Compatible with GamePads

Turn Agile TV into your console.

Compatible devices

Available on all devices: mobile and tablet.

Playing content

Pause

 and 

rewind

 options with remote control to control channels from the couch.

Content recording

Access a maximum of 350 hours. They will be available for 100 days. In addition, you can recover programs, series or movies that have already been broadcast that you have not been able to see. They are available for 7 days.

Videoclub

A repository of more than 1,500 movies, series, documentaries and children's content.
Also Read: Amazon Prime Video: price, catalog and best free series!
Agile TV FAQ
Does Agile TV have parental controls?
Yes, Agile TV has Parental Control . Thanks to it you will be able to control what those under 18 years of age see. To activate parental control you will have to enter Settings and Change profile . Within the Profile, a pencil icon will appear and you will have to click on the Set Parental Control option . Give it a 6-digit password.
Can I enter Agile TV if I am not in Spain?
No, you can only access Agile TV if you are in Spain.
What channels does Agile TV have?
Agile TV is characterized by the large number of channels available, both private and DTT. And as an extra, it gives you information about the channels that are being broadcast at that moment or those that are going to be broadcast.
To view the channel list, access the TV Guide through the Agile TV menu or the remote control with the TV Guide Access key .
With Agile TV you can convert Netflix , Mi Tele Plus , Amazon Prime Video , Rakuten or other platforms into other channels on your TV that you can access through the applications on your Agile TV.
On the other hand, these are the channels tuned to Agile TV :
DTT television channels available
Private channels
National, regional and local channels (depends on your geographical location)
The available Agile TV channels can be complemented by downloading apps such as Netflix. We remind you that Agile TV is a device that incorporates all analog channels and also allows the download of external applications.
Also Read: Netflix : prices, subscription and latest news
Channels to watch football on Agile TV
With Agile TV you can watch football online when the channels are broadcast free-to-air and a subscription to other platforms such as Movistar+ is not necessary. How can the Copa del Rey matches be.
If you want to watch the Champions League or the Football League, you can download Mitele Plus on Agile TV to watch all the football matches directly from your Agile TV Box.
How to contract Agile TV with Yoigo?
To be able to contract Agile TV with the company, you will only have to contract one of Yoigo's offers .
It will only cost you €6/month if you contract Agile TV with one of Yoigo's Fiber and mobile rates; On the other hand, if you choose a fiber and mobile rate with 40 GB or unlimited GB, it will cost you €3/month .
At €6 if you hire Agile you will get these free subscriptions:
Free subscription to Rakuten TV
3 months gift from FlixOlé
Rakuten TV and Agile TV for Yoigo customers
Yoigo's Agile TV service also includes a free subscription to Rakuten, these are the conditions:
Registration before 07/01/2019 : contact Yoigo customer service (call 622) to request that they add the Rakuten TV subscription for €1 more per month.
Registration after 07/01/2019 : your rate already includes the Agile TV + Rakuten TV Subscription service.
To access Rakuten TV Subscription content you have to open the Rakuten TV app from the highlights of the Agile TV application and from the main menu in the Applications and Video Club sections .
The Rakuten TV Subscription service now comes integrated into Agile TV.
Agile TV opinions, is it worth it?
The opinions of Agile TV are very varied: there are users who find it a very complete product, but there are other aspects such as its mobile application that are not highly rated.
The positives of Agile TV
The best thing about Agile TV is its features. This product gives us access to all DTT channels just by connecting the antenna and we can do something that is not very common: rewind , pause or record the content to watch it later.
Another thing we really like about Agile TV is that it has the Android TV operating system. This gives us the option to download as many applications as we want. One of the biggest news is that the most in-demand application, Netflix, is now available on Agile TV . What's more, you can also install others such as Amazon Prime Video, Flix Olé, Rakuten… and access it comfortably from the bottom menu bar.
The negative of Agile TV
The Agile TV TV Box is a device that you must purchase in order to access Agile TV services. The price is around €200 so it is not very accessible for all users (if you do not contract it with Yoigo, it may not be profitable). On the other hand, if you want to see other content, you will have to subscribe to the rest of the platforms such as Netflix, Rakuten, Sky…, which will mean a higher outlay of money. Although it is true that with the Yoigo offer they give you 3 free months of FlixOlé subscription .
It seems that another negative point about Agile TV is its application, which has a rating of 2/5 stars in the Google Play Store. It usually causes problems with rewinding, there are programs that cannot be watched or recorded from one day to the next, etc. Fortunately, this only happens on mobile .
Also Read: Disney Plus: Price, catalog and how to subscribe
Agile TV Box: the Yoigo television decoder
Agile TV Box is the decoder used by this Agile TV service. It is a small multimedia device that has Android TV as its operating system , on which you can install Android-compatible applications. Additionally, you can change channels with the Voice Remote Control (just by pressing the microphone).
Agile TV is a good device with 4K resolution to turn your television into a Smart TV.
Agile TV Box has a built-in DTT tuner , the device that will allow you to tune in to the television channels that are available in the Spanish geographical area where you live.
What does Agile TV Box include?
4K TV Box (with Google certificate).
Bluetooth remote control with Voice Control.
HDMI and Ethernet cable.
2 AAA batteries.
How to configure my Agile TV device
Once you have purchased the Agile TV device or contracted it with Yoigo, you will have to configure your Agile TV device with your television:
From here, some welcome screens will appear and you will be asked to write the owner's ID.
Place the Agile TV Box near the television and your router .
Connect the antenna cable to the antenna socket in your house.
Connect the HDMI cable from the set-top box to your television.
Connect the Ethernet network cable from the WiFi router to the TV Box, this option is much faster, although you can also connect through the device's WiFi network.
Place the AAA batteries in your controller.
Turn on the TV and select the HDMI source the Agile TV is connected to and it will work.
From here you will only have to tune in to the TV channels or place them in order.
Also Read: Rakuten TV: Series, movies and Rakuten Sports
Agile TV Channels FAQ
How to order the channels?
To sort the Agile TV channels, go to Settings , then Settings , Change Profile and click on the Pen . Inside, click Manage Channels and finally Sort Channels . Press the channel you want to change and move it to the position where you want to place it.
How to tune in to TV channels?
If you want to watch free-to-air television channels (DTT) you have to connect the antenna cable to the TV Box. To tune the channels you will have to enter Settings , then Search for channel sources and, finally, TV Channels .
What if I have problems tuning into TV channels?
If you find it difficult or have problems tuning the channels, you can contact customer service to help you solve it.
Download the Agile TV app on your mobile
With the AgileTV app you can access thousands of content wherever you want and whenever you want.
If you want to configure Agile TV on your smartphone, you will only have to download the Agile TV app for your mobile :
Download the Agile TV app
How to install applications on Agile TV
To install an application, enter the Android TV menu by pressing the Google Android TV button , enter the Google Store and there you can search and install the apps available for Android TV.
On the Agile TV apps page you will find recommended applications and you can download the best ones: children's, video games, sports, cooking, news…
These applications will allow you to turn your television into a mobile phone with a large screen: make video calls, share photos, files…
These are the best apps to download on Agile TV :
Streaming: Rakuten TV, Sky TV, Amazon Prime Video, Netflix…
Soccer: MiTele Plus
Also Read: Filmin: catalog, best series and price
Agile TV Apps FAQ
Can I download Netflix?
Yeah! Agile TV allows you to download Netflix . What's more, you will have privileged access from the bottom bar of the Agile TV menu to access Netflix whenever you want. Of course, you will have to have a Netflix subscription.
Can I download the apps I want?
No, there is an application download limit because the TV Box has a limited capacity. We recommend that you uninstall the apps when you install new ones for better performance.
How can I uninstall an app?
First, access the Android TV menu in Settings , Applications , Downloaded applications . Within downloaded applications, choose the one you want to delete.
Agile TV not working? Solve the problem
In any case where Agile TV is not working, we recommend contacting Agile TV to help you solve the problem:
Agile TV email
atencioncliente@agiletv.com
If you have questions about how you can solve your problem with your TV Box, they have created an Agile TV Help Section where you will find all the problems and solutions.