Filmin: catalog, best series and price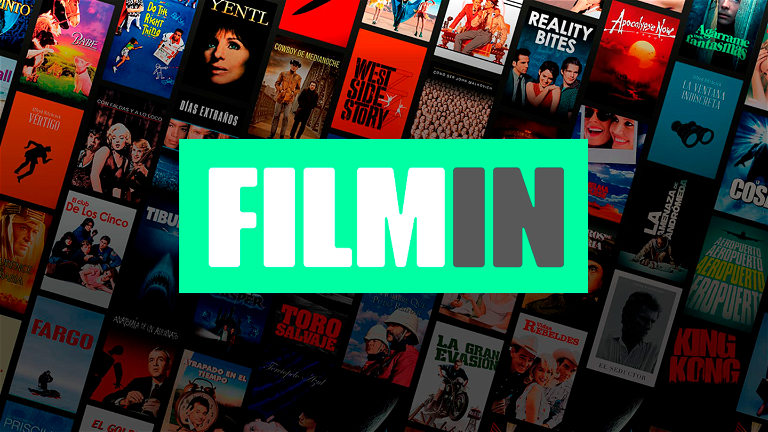 What is Filmin?
Filmin is an online film and series platform that has been available in Market since 2007 . He also moved to Portugal in 2016, where he is having a lot of success.
Filmin collaborates with the Ministry of Culture and Sports , the Generalitat of Catalonia and is financed by the Creative Europe program of the European Union . Additionally, it is a member of Eurovod and financed by Enisa .
Filmin works with multiple film companies such as Avalon Distribución, Versus Entertainment, Wanda Vision, Metropolitan Film Export, etc. This makes it a very complete platform with online content of series , movies , short films , documentaries , feature films …
The vast majority of Filmin content is filmed in countries such as France or Portugal. Thanks to Filmin you can enjoy the best Spanish cinema in all its versions.
Frequently asked questions about Filmin
In which countries can you enjoy Filmin?
Filmin is only available in Spain and Portugal. However, you can also hire it in Mexico with Filminlatino.
Is it possible to watch Filmin outside?
In principle, Filmin is only available in Spain. However, if you travel within EU countries you can also enjoy your subscription.
Filmin price: one month free?
Filmin is not a free platform, therefore, it does not have a free month as we have seen on other platforms such as HBO or Amazon Prime Video .
With the Filmin subscription you can watch the titles that are included in your subscription as many times as you want. You will only be able to watch Filmin series with a subscription .
Filmin prices
Basic Filmin : €7.99
Filmin Plus : €14.99
Can I rent movies on Filmin?
Once you enter Filmin , you can rent a movie without having to subscribe. You will only have to have a card or a PayPal account associated with your Filmin account. You will have 72 hours to watch the movie. With Filmin you cannot rent series .
Frequently asked questions about the Filmin subscription
Can I cancel my Filmin subscription?
I hope the day does not come when you need to do it, in any case it will be enough to go to "Settings" – "Subscriptions and vouchers" and from there cancel the renewal of your subscription. Whenever you want you can reactivate your subscription with a single click. Remember that even if you have canceled it, you will be able to continue enjoying your subscription until its end.
Why connect Filmin with Facebook?
Filmin gives you the option to connect with Facebook, this implies that the platform will receive the information from your Facebook account such as your photo or your email. In addition, you can share the series, movies, shorts or feature films that you see on Filmin through Facebook by clicking Publish on Facebook .
How much does the annual subscription cost on Filmin?
If you choose an annual subscription, you will be charged €84 (€6.99 per month) with the Basic plan and €120 (€9.99 per month) with the Plus plan .
Can I split the annual payment?
There is no possibility of splitting the payment. If you purchase the annual subscription you will be charged directly in a single payment.
What payment methods does Filmin accept?
PayPal
Credit and debit card: VISA and Mastercard. Payments cannot be made with American Express.
Filmin plans: which is better?
Like most platforms with streaming content, Filmin also has two different plans depending on consumer preferences. We explain what plans you can subscribe to on Filmin :
Filmin Basic Plan – €7.99
All series, documentaries and movies
More than 10,000 movies, series and documentaries
Offline content (only for mobile apps)
2 simultaneous screens
Free and instant cancellation (whenever you want)
Does not include extra vouchers.
Filmin Plus Plan – €14.99
All series, documentaries and movies
More than 10,000 movies, series and documentaries
Offline content (only for mobile apps)
2 simultaneous screens
Free and instant cancellation (whenever you want)
Includes 3 extra vouchers to see premieres marked with a diamond.
Also Read: What competitions does DAZN include? All sports on the channel
Frequently asked questions about the Filmin subscription
What are Filmin vouchers for?
Filmin often releases exclusive premieres that you can enjoy by redeeming your vouchers. You can use them with any title available in the catalog, except for series and titles from Universal and MGM distributors.
Do Filmin vouchers expire?
Filmin vouchers never expire . You can wait as long as you want to spend them. Plus, they accumulate if you don't spend them in a month.
How much do Filmin voucher packs cost?
5 vouchers cost €15 and 20 vouchers cost €55.
Catalog and latest Filmin releases
Within Filmin we find a wide cultural selection of channels for those people who are passionate about cinema. Up to 58 channels that collect all the information we can imagine about cinema.
Filmin collects online film festivals of documentaries or films with the characteristics of Filmin that make this platform different from Netflix or HBO and these types of platforms.
The Filmin catalog is characterized by the fact that it includes the majority of content from new filmmakers and artists with fresh and good quality content.
These are some of the most important channels:
Cinema lessons channel: all the history about cinema
Classics
women's movies
Universal
Metro Goldwyn Mayer (MGM)
Film library
Also Read: Disney Plus: Price, catalog and how to subscribe
Best series to watch on Filmin
Filmin series will only be available if you have your Filmin subscription active. However, you can rent the movies without having to subscribe.
Within the series that we can see on Filmin, we find several genres such as: Documentary Series , Comedy Series , FilminKIDS , Period Series , Detectives and a long etcetera.
The fire
Mashed potatoes
Blood
A personal journey through American cinema
Homeland: Iraq Year Zero
The small deaths
The Bergman Video Library
Fight of ideas
Ocean: a story of gender transition
The Bisexual
Utopia
Crimes of Passion
Latest premiere movies on Filmin
Within Filmin films you will find: premieres, classics, documentaries and fictions, national, European and Asian animation. In addition to the best Spanish films of each year. That is, those awarded Goya Awards.
Every week there are new releases on Filmin, many titles are classics and other titles will be new releases that you can see for the first time on Filmin.
We remind you that you can rent movies on Filmin without having to subscribe to the platform . You will have 72 hours to watch it from the moment you choose the version of the movie. If it is a movie that is included in your subscription, you can watch it as many times as you want.
Magical nights
Parking
Nevrland
Parking
About the infinite
Children of the extreme right
Skin
We are just
The innocence
The fantastic woman
Today and Not Tomorrow
CRHSD
Download the Filmin app
Filmin has an app available that can be downloaded on almost all devices. This is what you can do from the Filmin app :
Download content to view offline
Access all content (series, movies, documentaries…)
Discover new series and movies .
Connect your mobile to the TV to enjoy content on the big screen.
Mark your content as Favorites .
Download the Filmin application
Is Filmin content available offline?
The option to download content to enjoy it when you do not have an Internet connection is only available for mobile phones or tablets. You can store up to 12 chapters .
Downloading content may take up to 15 minutes.
The only thing you need is an Internet connection when downloading series and movies. Content download expires in 1 month . To renew your license, connect to the Internet again and click Renew license .
Frequently asked questions about the Filmin app
How many devices can I watch content on simultaneously?
You can play Filmin content from the app on up to 2 devices simultaneously.
Also Read: HBO Max: log in, discover the price and catalog
What devices is the Filmin app compatible with?
The Filmin app is only compatible with the main brands of tablets and mobile phones with an Android 8 or higher system and as for iPhone, the application requires a minimum of iOS 11 or later.
You can use the Filmin app if you have an LG device from 2012 to the present (Netcast 2.0 and WebOS models).
| Devices | How to watch Filmin? |
| --- | --- |
| | If you have a Samsung television you can enjoy Filmin. You can download the Filmin app from the Samsung Market and install it. With Android TV from Sony, Phillips or Sharp TVs and Fire TV Stick it is also compatible. |
| | If you have a PS4 you can download the Filmin application through the PlayStation Store. However, you won't be able to do it on the PS3 . |
| | You simply have to download the Filmin application that you will find in the Android Play Store . When you have installed the application, you only have to enter your user email and password (the same one you have in Filmin) and you will be able to browse the entire online movie catalog. |
| | Download the Filmin app from the AppStore . Enter your user email and password (the same one you have in Filmin) and you will be able to browse the entire online movie catalog. If you don't have a subscription, you can watch a movie by renting it online first. |
| | To watch Filmin on your computer, you just need to go to the Filmin website and log in. |
Can I connect Filmin to my Chromecast?
Of course! The Filmin app is fully compatible with Filmin. The only thing you will have to do is download the Filmin app on your mobile. We explain how to connect filmin with Chromecast:
Download the Chromecast app on your mobile.
Download the Filmin app in the app store.
Enter the Filmin app.
Select the content you want to view.
Click on the Chromecast icon which will make you cast content.
Also Read: Netflix : prices, subscription and latest news
Opinions about Filmin
We have found some opinions all over the web that give us clues about what Filmin's strengths are:
With the latest version the second line of the subtitles is cut off on my LG TV, it works fine on the mobile, in the previous version they worked perfectly on both, the application does not allow you to modify the format of the TV or the subtitles, change their size or situation. It's a shame, the application is weak but the catalog is the best I have seen of all the existing platforms, it is varied with classics and current ones and a lot of variety of European series.
I love the App, thank you for bringing good art to us. Things that could be improved: As for the app, it does not track chapters well on some occasions, if you have finished the chapter, you leave and come back in, sometimes the next one does not appear directly. You have to get into the season and look for it (it's nonsense, but it speeds up and makes viewing more enjoyable). The next chapter button appears too large on the screen and there is no way to remove it.
he app is very good, the only complaint I have is the Chromecast content control. When you send to the second screen the only control I have is through the notification, and not from the app. An example would be on Netflix. Thank you, your content is brutal 😉
As we see, Filmin's opinions are above all about the app, which apparently is not one of the best streaming platform apps. In fact, it has a lot to improve.
Contact Filmin
If you have any problem with the Filmin app or with your subscription, we recommend that you contact Filmin at their contact email: contacto@filmin.es .
If, on the other hand, you are a journalist, collaborator of a media outlet or artist and need more information about Filmin, write to them at their e-mail: ventas@filmin.es .