7 Alternatives To Demonoid To Track Torrents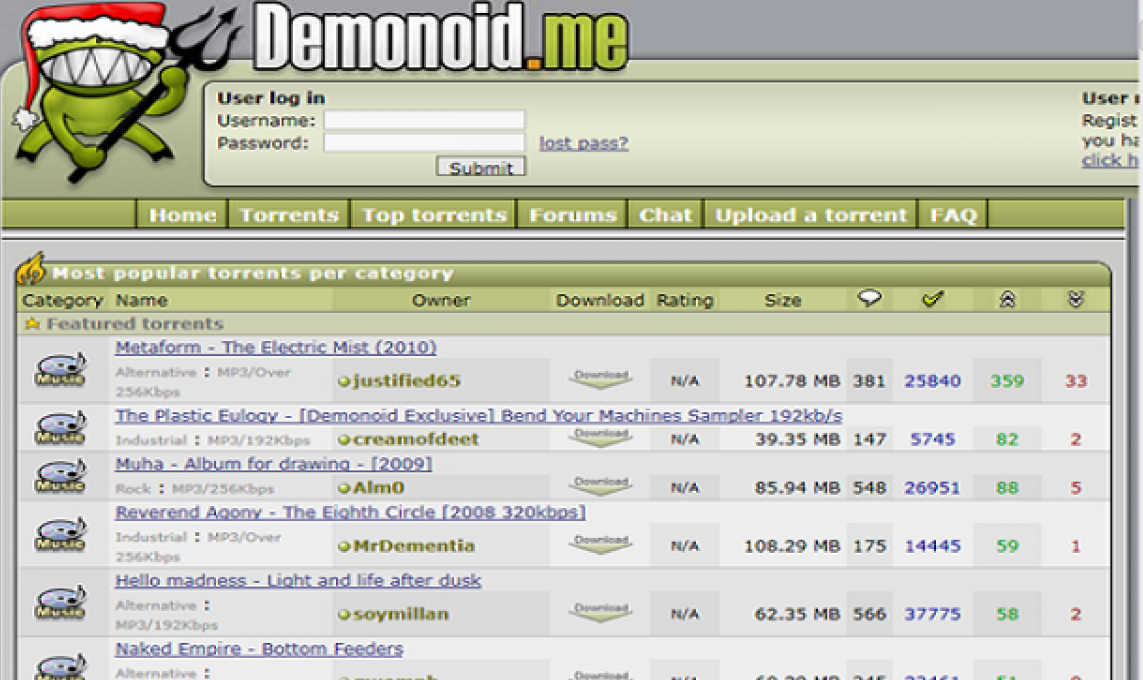 Gone is the golden age of torrent trackers. A dark cloud hangs over the entire torrent scene, and it seems that it has embraced Demonoid with its arms of doom.
That's bad news for everyone who torrents, but especially for long-time Demonoid users, who are now forced to search for a suitable alternative. Below we show you 7 Alternatives to Demonoid to track torrents .
Will Demonoid ever come back?
Demonoid has built a reputation as a resilient torrent tracker that always manages to come back even after being offline for weeks and months.
But despite its reputation, many of the site's supporters realized something was off when the site's owner mysteriously disappeared in  August 2018.

Two months after the owner's disappearance, the site went offline and has remained offline ever since. A Demonoid Phaze1G staff member said in an interview with TorrentFreak that the site would come back, but we had to wait and be patient.
But you don't have to live a life without torrents until Demonoid returns. There are still many other torrent trackers that continue to push ahead despite all the bad things that have happened to torrent trackers in recent years.
1. The Pirate Bay
The Pirate Bay launched the same year as Demonoid, 2003, and the site has experienced at least as many run-ins with copyright watchdogs and law enforcement as its demonoid kin.
In recent months, The Pirate Bay has spent as much time offline as it has been online, but its .onion domain is working almost all the time. The Pirate Bay is available in 35 languages  ​​and offers everything from movies and TV shows to software and games, music and audiobooks.
You may want to install an ad-blocker  before visiting The Pirate Bay because the site runs a cryptocurrency mining script that starts as soon as you enter it and uses your CPU to mine XMR.
2. 1337x
1337x is a general purpose torrent tracker that started life in 2007. Since then it has become the  third most popular torrent website in the world , and we think its modern design, which was introduced in 2016, has a lot to do with it. with that.
Of course, 1337x would never be as successful as it is today if it also didn't offer a huge selection of torrents of all genres. The crawler has several alternative domain names that increase its overall resiliency.
You can find all the official alternative domain names on the page, and we strongly recommend that you check at least two or three of them.
3. Torrentz2
Torrentz2 is a metatorrent tracker that aggregates torrents from many different torrent trackers, including Demonoid, and presents them in one place, saving you a lot of time and energy. At the moment, Torrentz2 offers more than 61 million torrents  from more than  270 pages in 91 domains  .
Because Torrentz2 does not host torrents on its servers, it is much less likely that it will ever be removed. However, Torrentz2 is ready for anything, the site has a .onion domain and several mirrors ready.
4. NYAA.yes
Demonoid attracted a lot of anime fans because the tracker was an excellent source of Japanese entertainment. With the site inaccessible for so long, many anime fans have been looking for a new source for Japanese anime, manga, and video games.
NYAA is a  special purpose torrent tracker that focuses exclusively on East Asian media. Started in 2011, it has quickly become one of the largest anime-dedicated public torrent indexes in the world.
It's also worth noting that NYAA has a sister site, called Sukebei, where you can find hentai, adult video games, and JAV.
5. RARBG
RARBG is a reliable torrent tracker with a curated collection of scene and P2P torrents. The tracker is home to the RARTV casting group, which specializes in popular TV shows.
RARBG is one of the few torrent trackers with an RSS feed, allowing you to automatically download the latest episodes of TV shows the moment they're released.
We recommend  RARBG  to anyone who is sick and tired of downloading fake torrents and dealing with malware.
6. RuTracker
RuTracker is a huge Russian torrent tracker that you should keep on your radar because  it has such a huge collection of torrents that it's hard to believe  .
Unlike Demonoid, RuTracker is a semi-private torrent tracker, which means you need to register before you can use it. However, you can register for free and create as many user accounts as you want.
Of course, you should seed as much as you can, but RuTracker has one of the simplest sharing requirements, so even users with a poor internet connection should be able to meet them.
7. Zooqle
Zooqle is a  rising star of 2018 . This Russian public torrent tracker has a very modern design with support for mobile devices. It lists almost  4 million verified torrents  , and   about 2000  new torrents are added every day  . The tracker has been translated into English with more languages ​​to come.
The best VPN for torrenting
The owner of Demonoid may have been arrested because he failed to use a virtual private network (  VPN ) to protect his web traffic from eavesdropping, interference, and censorship. You can think of a VPN as a private tunnel that no one except you can access. The traffic that goes through this tunnel is encrypted, so even your Internet service provider doesn't know what you're doing online.
Not all VPN services are suitable for torrenting, so choose carefully and pay attention to the terms of service. We recommend  NordVPN  due to its slick client, strong encryption, global presence, affordable prices, and positive attitude towards torrenting.
NordVPN is  just $2.99 ​​per month if you pay for three years of service upfront, and you can secure up to six devices at the same time  with a  single NordVPN subscription  .
Once you start routing your online traffic through a hack-proof encrypted tunnel, you no longer have to worry about getting a warning letter from your Internet Service Provider every time you visit Demonoid or some other torrent tracker. .
Conclusion
No one knows what happened to the owner of Demonoid and it is not known if the site will return. Even though Demonoid has made several surprising returns after being offline for weeks and even months at a time, some Demonoid staffers fear this could be the case for the site, which has been around since 2003.