9 JDownloader Alternatives for File Downloaders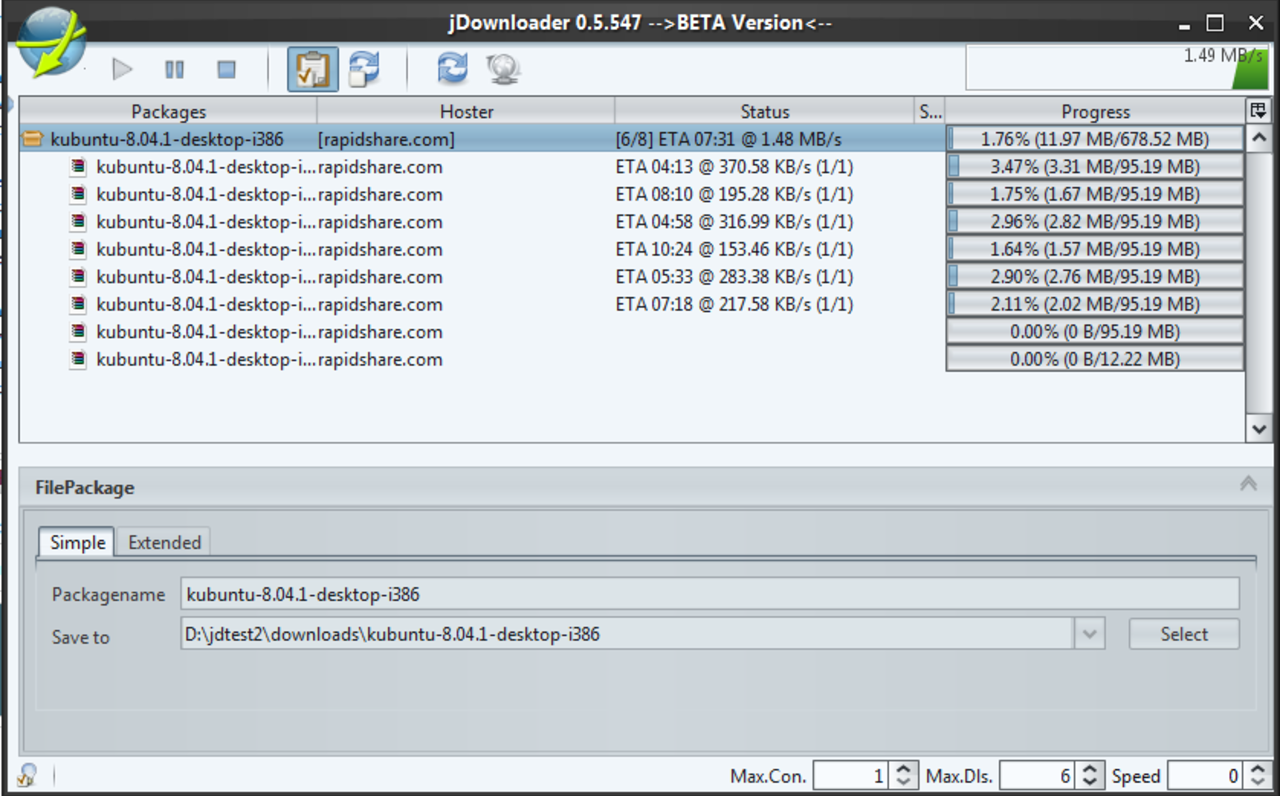 If you are having difficulty downloading multiple files from the Internet, especially large and simultaneous ones, the usual way of doing it may have a lot of difficulties.
This is where a download manager comes in handy. Not only will it make the download process easier to manage, but it will also help download files as they should while keeping them organized.
One of the most popular download managers is JDownloader, which is really one for power users with its advanced features. However, if you're looking for a more user-friendly alternative, we've rounded up 9 JDownloader Alternatives for Downloads .
9 JDownloader Alternatives for Downloads
A download manager can manage your downloads, prioritize them based on file type or name, to download important ones first.
T
 he hard part is choosing the best tool to handle special downloads, other than music or software, that your browser can't. 
What is JDownloader?
JDownloader is a free, open source, advanced download manager that saves you hours of your precious time by downloading as fast and easy as it should be. You can start/stop/pause downloads, extract files automatically, and set limits on bandwidth usage, among other things.
It is available for all major operating systems that support Java, such as Windows, Mac, and Linux in Chrome and Firefox browsers, and is ideal for advanced users who need advanced tools such as RAR auto-extraction, decryption plugins, CAPTCH auto-completion, such as found in download, sites, remote management, password list search and more.
JDownloader works with Java Runtime Environment, so you have to be very careful during the installation, as its installer comes bundled with adware.
It also allows you to add download links directly from your clipboard to JDownloader and start downloading almost immediately. Also, you can easily import the download links later as the tool saves a list of the links as a password protected encrypted file.
1. Ninja Download Manager
This download manager is a free alternative to JDownloader with a simple, modern interface and super-fast download speeds.
Ninja splits each of the files you are downloading into chunks and then downloads them individually using a different server connection. This is what makes it super fast and a reliable alternative.
You can use it to download media files like movies and music thanks to the sequential setting feature, which allows you to start playing a file while downloading, and if it's a video, you can use the converter to automatically change the file format before downloading. the download.
It also supports resume/restart, interrupted and stopped downloads, sequential file writing that allows you to preview files before or during downloads, and you can extract audio from video files as well.
Other features include download queues that give you more control over your downloads, a speed limiter that sets download and browsing speeds, connection controls to maintain multiple connections, password settings for downloaded files, file sharing, and Internet monitoring. clipboard.
2. Free Download Manager
Free Download Manager (FDM) is another good alternative to JDownloader that is packed with tools including but not limited to web-based remote control, bandwidth monitoring, and one-click torrenting, for music and movie lovers. .
The free open source download manager has features like download scheduling, a remote control that allows you to leave your downloads running, and you can also monitor from any interconnected device.
It also crawls sites to download specific file types, and you can select the bits of the ZIP file you want to download.
Other than that, FDM integrates with web browsers and you can monitor and intercept downloads from them, or work without them too.
You can also preview ZIP files before downloading, create batch downloads, download links from your clipboard, download torrents, and control bandwidth for your downloads.
Like Ninja, you can convert audio and video files before downloads are complete, but FDM goes further to allow you to schedule downloads based on specific days only.
It runs on all major operating systems, including Windows, Mac, Android, and Linux, and works with Chrome, Firefox, and Internet Explorer. There is a Lite version available if you don't want the main one, which takes up less space as it lacks the torrent client.
The main drawback of FDM is that your security software programs can mark it as malware and prevent it from installing or working properly.
3. Download Accelerator Plus
DAP by Speedbit offers a smoother, more responsive and faster download experience in its latest version which is packed with technical advances for the best experience.
These include core features like fast download speeds, which DAP provides through its advanced proprietary technology that makes it trusted by over 300 million users, though only premium users can enjoy the extreme acceleration feature.
Automatic mirror speed boost feature allows you to search for the fastest download sources and switch to faster mirror sites while downloading.
It also lets you resume broken or paused downloads, use video accelerator to eliminate online video buffering, and watch smooth HD videos in 15 languages.
In addition, there is a video downloader and converter, which allows you to download from YouTube, Dailymotion or Metacafe and many other video sites using Speedbit acceleration engine and watch them smoothly online or offline.
If you want a complete history of your downloads, DAP provides it and also allows you to access and browse the Internet from within the tool.
If you want to roll back and destroy the files, there is a file shredder in DAP for that purpose and a Trace Cleaner to remove download traces from your device.
You can download the free version from the Speedbit site or if you want the Premium version, you can choose between three plans: DAP (1 license) $24.95, Speedbit Acceleration Pack (DAP license and Video Accelerator license) $29.95 per year and Speedbit Acceleration Pack Home (3 DAP licenses and 3 Video Accelerator licenses) $49.95 per year.
4. EagleGet
EagleGet is a free, all-in-one, smart and modern download manager that comes with a browser extension that works with all browsers and comes with additional software.
Download Manager identifies downloadable content on web pages so you can choose them with just a few clicks. However, you will need to save any work before you can start using the tool to download files.
Its advanced multithreading technology speeds up connections and can dynamically adjust download jobs in terms of priority and ranking based on specific criteria.
Its smart scheduler also allows you to run different download jobs on any day of the week or at a corresponding fixed time as it supports multiple download queues.
EagleGet also detects media content on websites automatically, provides flexible notification settings, and has a malware checker and file integrity checker to protect you from cyber-attacks and ensure the file you download is genuine, and a TaskMonitor that monitors any task on execution and completed.
The interface supports more than 30 languages ​​and you can download the tool for free or get the Chrome extension if you prefer.
5. Internet Download Accelerator (IDA)
IDA is a free download manager that makes it easy to download files. It works with various browsers like Chrome, Safari, Opera, Internet Explorer and others to perform your browser functions in various programs.
Some of its powerful features include a live monitor that ensures files are downloaded and placed in the proper categories to make them easier to organize. You can do this with regular downloads or with downloads from an FTP server.
IDA can capture multiple downloads via URL variables, automatically scan for viruses, change user-agent details, use hotkeys, and automatically download files with specific file extensions of your choice.
The interface is user friendly, intuitive, user friendly and customizable and you can find features like floating window showing download speed and active downloads, download list support with rich sort options, plugin support, multithreading Dynamic download and resume feature for interrupted downloads.
IDA also offers scheduled operation, PC shutdown, and sleep/wait after downloads are complete.
You can also download video files and MP3, 8K, 4K and FullHD video from all major video platforms with subtitles included, and watch them even as they download.
The tool works with ZIP files and you can preview the content before downloading, or check ZIP or RAR files and unzip them, or even recover damaged files.
If you want to download HTML pages with images, IDA allows you to do so. You can also control download speeds and use different modes, such as Manual or Automatic, for dynamic control or comfortable browsing, respectively.
The tool integrates with all major browsers and antivirus programs, and has a toolbar for Firefox and Internet Explorer. If you want the fully featured IDA Pro version of the tool, you can purchase it for $9.95 for a single lifetime license or a lifetime license for a family pack (3 computers) for $24.95.
6. Get Go
GetGo is a free download manager with speeds up to five times, a built-in web video downloader that uses cloud-based technology to download and save files to your local drive.
It also has a smart, multi-threaded download engine that intelligently segments files for faster download speeds and comprehensive error recovery to restart any interrupted or broken downloads in the event of lost connections, computer shutdowns, crash issues, etc. network or unplanned power outages/failures.
You can also set up a batch download for a large list of files using URL pattern templates, and the tool will automatically rename files using a filename pattern template.
It is easy to use, integrates with all major browsers and comes with a skinnable, dockable and customizable GUI.
You can quickly download files via drag and drop using the floating dropbox and import download links using multiple options.
Like other download managers, GetGo also allows you to preview files before downloads begin, download them from password-protected sites, and auto-save files based on file extensions.
7. Download Accelerator Manager
Download Accelerator Manager (DAM) promotes itself as the fastest downloader that allows you to download files from almost any site like YouTube, and works with major browsers like Firefox and others.
It features a built-in smart download logic accelerator that boosts download speeds, and you can resume/schedule/manage your downloads, and a floating target destination button that makes it easy for you to start downloads.
DAM also supports a scheduler, batch downloads, confirmation sounds, virus checker, and stored credentials. Also check streaming video, Flash files, and music using MediaGrabber on any browser on your computer, such as Windows, Firefox, IE, Opera, Chrome, Safari, and Netscape.
If you want maximum speed and experience, you can get the DAM Ultimate Edition tool for $25.
With this subscription, you can enjoy advanced management options, a personalized download experience, download all videos and music from MediaGrabber with just one click, and achieve the fastest download performance.
8. FlashGet
FlashGet is another good downloader if you want an alternative to JDownloader, which monitors your downloads in browsers, tells you the file size, and scans downloads for viruses.
You can download files via various web protocols including HTTP, BitTorrent, FTP and others as it seamlessly integrates with all these protocols through a one-size-fits-all download button.
If you have music, videos or torrent files that you want to download, you can just use that button and the tool will know exactly how to manage it.
A floating desktop button is also included as with other download managers on this list, to allow you to pause or start and resume downloads, toggle browser monitoring, and add new download links.
The tool displays file sizes before downloads start, monitors downloads from your browser, and downloads them for you. However, it does not support HTTPS downloads or track downloads initiated in Chrome.
advantages
9. Xtreme Download Manager (XDM)
Xtreme Download Manager is a powerful download manager alternative to JDownloader that allows you to download any streaming video five times faster. It works with all major browsers including Chrome, Firefox Quantum, Opera, Vivaldi, and many others on Windows, OS X, and Linux.
The tool increases download speeds by up to 500 percent, saves streaming videos from major video platforms including Facebook, YouTube, Google Video, DailyMotion, and Vimeo, among more than 1,000 other sites.
Its features include resuming dead/broken downloads, seamless integration with major browsers, and scheduling and converting your file downloads. XDM supports more than 100 devices where you can watch the videos you have downloaded using the "Download this video" button and convert them to different formats.
It also has a Smart Scheduler like other download managers on this list, and a speed limiter that allows you to browse while downloading your files. The downloads are queued so that they can be completed one after the other, but there are a lot of download features and other advanced features like support for proxy servers and more.
Its interface is simple and useful, and is full of options and menus, plugins that notify you before sharing sensitive or personal data, and a download preview to view files before downloading them.
It also has a built-in file converter and can intercept downloads made by your browser. However, it doesn't support some features like torrenting and keeps asking for permission to read and change data on the websites you visit.
You can use XDM with all major operating systems, including Windows, Mac, and Linux for free.
Advantages
Benefits of a download manager
Ideally, a good download manager should offer advantages such as:
Improved download speeds, depending on the multiple simultaneous connections you use

Pause and resume file downloads to continue whenever you want, whether you're moving from your location or connecting to a different network. Doing all this without starting the downloads from the beginning, which will save you a lot of time, especially if you lose a connection or power outages.

Schedule download time and provide the exact time you want downloads to start, especially when you are not using your device

Auto-ID is another useful feature that automatically identifies and sets up your accounts based on your username and password on certain cloud storage or file download services.

Download content without download links, such as streaming content
Conclusion
All of these JDownloader alternatives can give you some of the benefits of using a download manager, such as download scheduling, download link list, fast speeds, pausing and resuming file downloads and downloading web pages, among others. Additional features.
However, among these best alternatives is our favorite pick: Internet Download Accelerator
Not only is it available in a free version, but it also works with all major browsers, has a live monitor that sorts your files for easy organization, scans for malware and viruses, and is still easy to use, customizable, and easy to use. intuitive.
It actually includes most, if not all, of the features that the other nine tools on the list have, making it a stronger contender against JDownloader.
The best part is that you don't have to be an advanced user to use Internet Download Accelerator because it's as simple as it gets compared to JDownloader.
Whether you want to download music and videos only or download larger files, IDA will meet all your file download needs in one platform.