9 Alternatives to Groupon to save money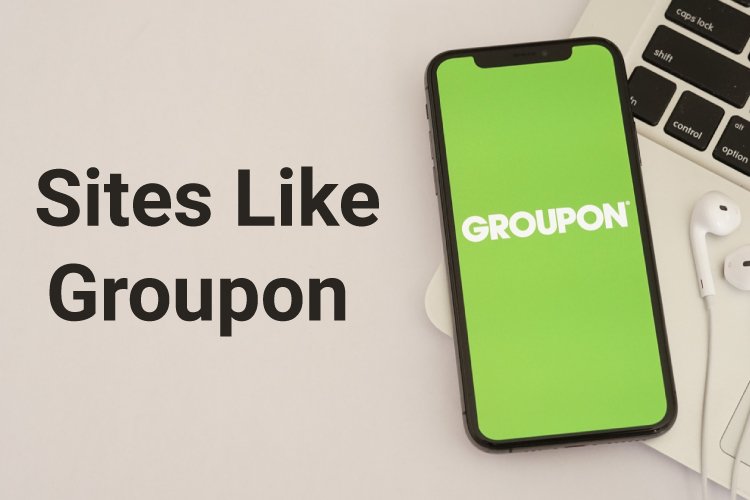 One of the easiest ways to stick to a budget is to save money on your spending. However, this can be difficult, since most people do not want to sacrifice themselves to enjoy small pleasures.
When this happens, discount sites like Groupon can help you find discounts and coupons so you can enjoy life without splurging. Here are 9 Alternatives to Groupon to save money .
Whether it's shopping, an oil change, or a vacation, there are plenty of ways to save money on purchases. Before paying full price, try using one of these money-saving sites to find a good deal.
What is Groupon?
Groupon is an online coupon site that helps you save money by offering deals for a variety of services and retailers.
For example, you can find discounts for massages, trips to the local museum, and online shopping. You can use these deals to save around town, a vacation destination, or fun date night ideas.
While Groupon is the most popular option, it's not the only online deal site offering savings. These discount sites can also help you save money on your next purchase.
1. LivingSocial
LivingSocial  is one of the best Groupon alternatives. Both sites are owned by the same company, but they have their differences.
The biggest advantage of using LivingSocial is its travel offers. You can find discounts and flash offers for hotels and tourist activities. LivingSocial also has many local offerings including beauty spas and experiences.
Key features  :
travel deals
Find discount codes to save on local deals
Immediately redeem e-coupons
2. Capital One Shopping
Capital One Shopping  (formerly Wikibuy) makes it easy to find shopping deals online. The site helps you find valid coupon codes that you can use to save money at popular online stores. These include Walmart, Target, clothing sites, and more.
In addition to offering rewards for online purchases, Capital One Shopping compares the prices of products from various stores.
If you're not ready to make a purchase right away, you can add items to your watchlist and receive price change alerts. Capital One Shopping has a mobile app and a browser extension.
Earn loyalty credits with gift cards
Find valid discount codes
Compare the prices of products from online stores
3. Coupons.com
With a name like  Coupons.com , it's no wonder you can save money by using the site. As one of the best coupon sites, you can find coupons for groceries and personal items. Coupons are available in digital or printable format.
You can use the Coupons.com mobile app to get store-specific digital coupons. Depending on the store, scan your loyalty card or scan the receipt to receive discounts. Your cash rewards are deposited into your PayPal account within 48 hours.
You can also use Coupons.com to find discount codes online. These codes can be applied at checkout for over 20,000 merchants.
Key features  :
printable grocery coupons
Store-specific digital coupons via mobile app
Redeem e-coupons immediately
4. woot
Woot is one of the top money saving sites for Amazon purchases. Like Groupon, Woot offers daily deals that can sell out fast. You can find deals in various categories on Woot. These include electronics, household items, outdoor items, and more.
Both Amazon Prime and Amazon Free members can claim these offers. Prime members receive free two-day shipping. Woot offers a "Deal of the Day" that can help you save more than 50 percent. The other daily deals sections also offer attractive discounts.
Key features  :
Amazon Daily Shopping Deals
For Amazon Prime and non-Prime members
Instant digital discounts
5. RetailMeNot
RetailMeNot has been around since 2006. It is one of the best sites for online shopping. You can use the site to find discount codes for many online stores. Downloading the mobile app allows you to redeem in-store coupons and restaurant discounts.
Unlike the Groupon app, RetailMeNot offers RXSaver coupons for prescriptions. You can save up to 85 percent by redeeming these coupons at participating pharmacies.
RetailMeNot also has an online shopping portal that offers up to 20 percent cash back. You can earn cash rewards that can be redeemed for PayPal or Venmo cash approximately 45 days from the date of purchase.
Key features  :
Pharmacy Coupons for Prescriptions
Earn cash rewards for online purchases
Redeem discount codes for online, in-store and restaurant purchases
6. SlickDeals
Slickdeals  is another one of the best sites like Groupon. While Groupon specializes in local activities, Slickdeals finds the best online shopping deals.
The website has pretty much everything you could want to buy online, including Amazon and travel deals. You can search for deals by store, product category, or by the current best discount.
SlickDeals has forums and deal alerts that help you avoid missing out on new deals for your favorite products and stores. Also, they have a mobile app that allows you to participate in the forums and monitor deal alerts.
Key features  : 
Daily online shopping deals
travel deals
Sign up option to receive offer alerts
Forums to find additional offers
7. DealCatcher
DealCatcher is one of the best daily deals sites for online shopping. It launched in 1999, which makes it older than Groupon. You can use DealCatcher to see the best discounts and find promotional codes.
In-store coupons are available for local retail stores and restaurants. You can print these coupons or activate them with the iOS mobile app. Unfortunately, DealCatcher does not offer an app for Android devices.
Key features  :
Daily online shopping deals
Printable In-Store Coupons for Retail Stores and Restaurants
Mobile app for online and in-store savings (iOS devices only)
8. DealNews
DealNews lists some of the best deals from online stores like Amazon and Home Depot. You can also see sales announcements from many stores. It is possible to search for offers by store and product category.
Some of the product categories on DealNews include clothing, computers, and travel. You might also like to browse their gift cards, gifts, and revamped sections to get money  while you shop.
Key features  :
Online shopping offers for many products
Show free offers
Browse offers by store or product category
9. Travelzoo
Travelzoo is one of the best sites for travel deals. The Travelzoo site helps you save money on travel purchases, including:
flights
Hotels
rental cars
Cruise ships
Each offer lists eligible travel dates and any additional requirements. It is possible to save extra money when TravelZoo offers vacation packages. You can search for the best domestic and international travel deals available.
Signing up for Travelzoo's email list allows you to see the "Top 20" weekly travel deals along with the best regional deals. You can also use the TravelZoo mobile app to see nearby deals.
Like other apps like Groupon, Travelzoo is free to use. While other discount sites are better for tourist activities, you can enjoy the variety of offers that Travelzoo offers.
Key features  :
International travel deals
Weekly "Top 20" Travel Deals Email Newsletter
Quickly find nearby travel deals
Offers of flights, hotels and all-inclusive packages
Conclusion
Sites like Groupon make it easy to save money on everyday purchases. You can also save money while relaxing at the spa, having a date night, or visiting a new attraction.
In addition to the upfront discount, some alternatives allow you to earn cash rewards. Before you make your next purchase, check out one of these sites to see if you can save a little extra money.
What other discount sites like Groupon do you use to save money? How else can you save money on your purchases? What methods do you use to compare prices?